Dental Sealants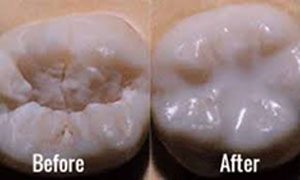 A dental sealant is a thin coating that is essentially painted on to the tooth that acts as a barrier and protects the teeth from bacteria and acids. These barriers can prevent tooth decay from cavities and can help the teeth stay stronger and healthier for longer. In fact, with sealants, the tooth is up to 88% less likely to get a cavity. The AAPD (American Academy of Pediatric Dentistry) recommend placing sealants on cavity-free primary and adult teeth.
It is usually placed on the back teeth and molars because they are the hardest to clean. Once the sealant is applied it quickly adheres into the crevices of the teeth and forms a protective layer around the tooth's enamel. Dental sealants can last for many years, are very effective,  and are very safe.
If you would like to inquire more about Dental Sealants call our office and one of our helpful staff members will be happy to assist you.